Google's New AI Search Experience Is Going to Change SERPs as We Know It
For the last few weeks, there has been some chatter about an upcoming AI-powered search engine from Google. As AI has been at the forefront of many revolutionary tools this past year, it was never a question of if but when Google would adopt the technology.
And on May 10, at Google I/O, they finally announced what many marketers had a hunch of what was to come. Introducing Google Search Generative Experience:
But First, What is Search Generative Experience?
Here is what Google explained in their "How Search Works" documents:
"Search Generative Experience (SGE) is an early step in transforming the Search experience with generative AI. When using SGE, people will notice their search results page with familiar web results, organized in a new way to help them get more from a single search. With SGE, people will be able to:
Ask entirely new types of questions that you never thought Search could answer
Quickly get the lay of the land on a topic, with links to relevant results to explore further
Ask follow-up questions naturally in a new conversational mode
And get more done easily, like generating creative ideas and drafts right in Search
SGE is rooted in the foundations of Search, so it will continue to connect people to the richness and vibrancy of content on the web, and strive for the highest bar for information quality."
Get a Better Glimpse of What is to Come
In a blog post following the announcement at I/O, Google shared this GIF showcasing what a user will see when they use the generative search experience (indicated by the blue labs icon in the top right):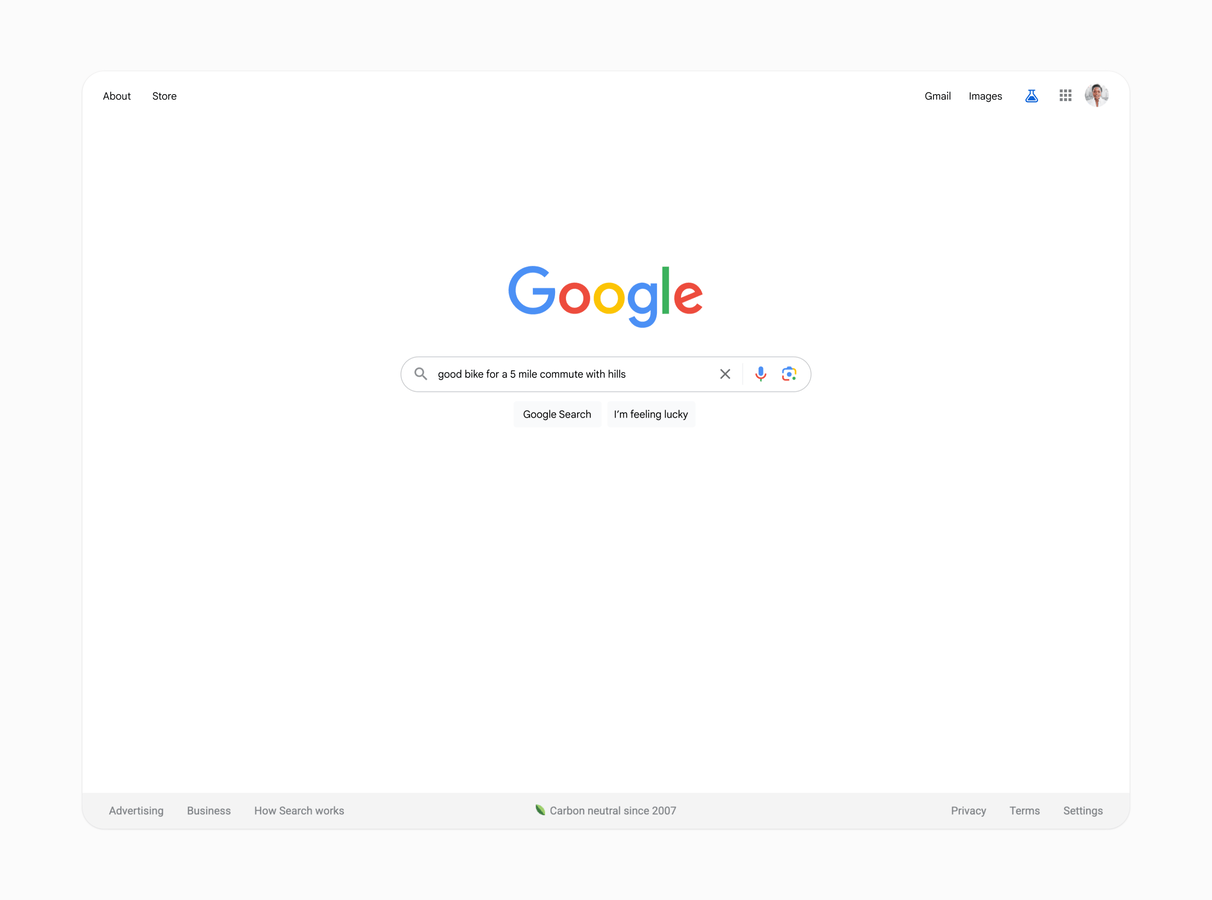 As you can see, before the new AI area appears, we see what users see today, with some ads at the top and organic listings below.
But now, users will see a whole new area in search that includes a mix of advice, links, photos, and options to continue the conversation, much like we are prompted with in tools like ChatGPT.
Of course, this GIF shows only one example of thousands of possible queries, and it will be interesting to see just what results for local searches, services searches, and everything in-between will ultimately look like.
However, according to the Verge, we do know that some subjects will not be included, as Google knows that its AI will not always present the best answers:
"Not all searches will spark an AI answer — the AI only appears when Google's algorithms think it's more useful than standard results, and sensitive subjects like health and finances are currently set to avoid AI interference altogether."
To better understand how the current landscape of the search results page is going to be rearranged in the new experience, check out this great guide from Brodie Clark on Twitter: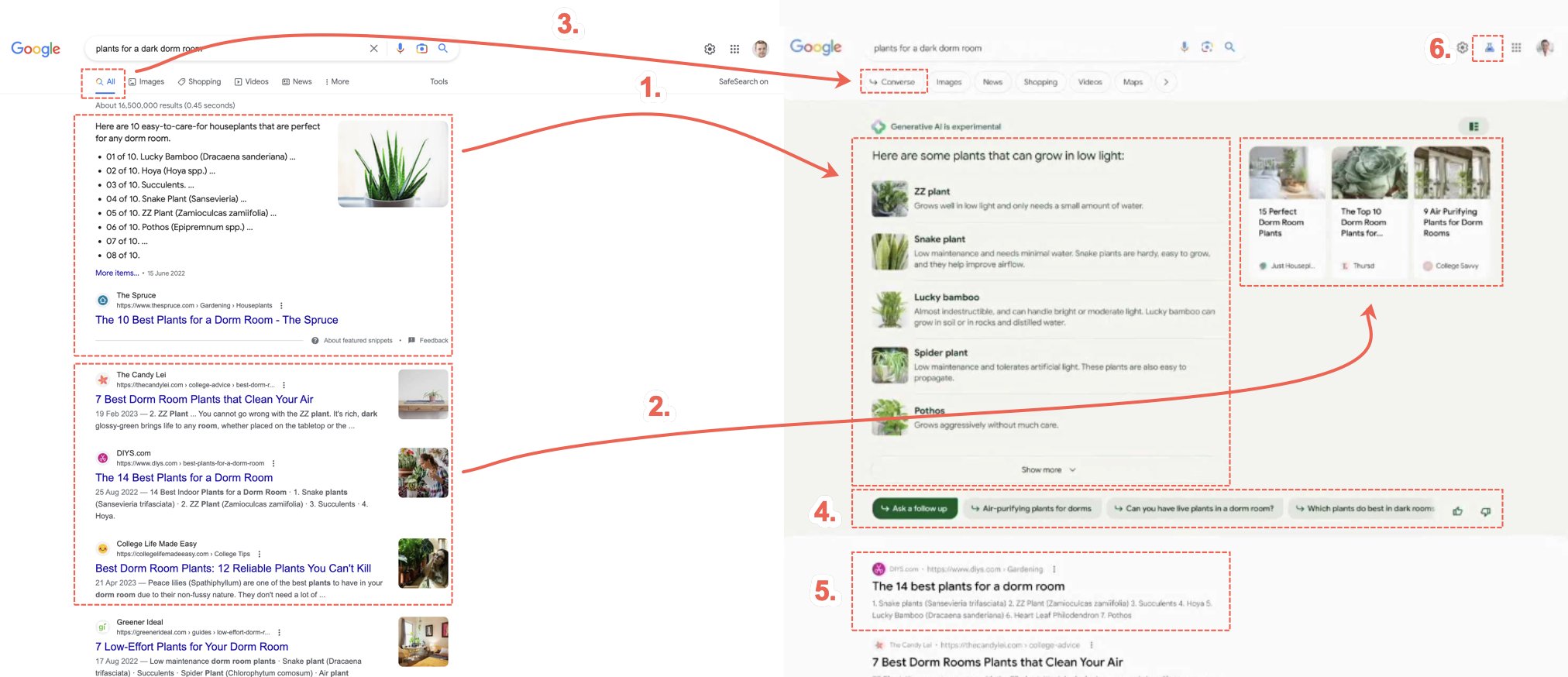 Questions We Want to Know
While the announcement relayed a lot of information, there are still many unanswered questions, including:
Will users be able to opt in or out of generative search?
What will become of keyword research?
Are websites going to be cited with links?
What is going to happen to the local 3-pack?
Will we be able to track clicks from this new area in GA or GSC?
What Could Go Wrong?
Later in their documentation we mentioned earlier, they go on to state some known issues they have seen with the SGE based on how the AI gathers information. Here are some of the things they note as "known issues" with SGE:
Bias – Given how the search engine normally operates but rewarded high-quality sources, its perception of information may be skewed by only favoring the top results it finds.
Personas and opinions – The AI may generate a response that does not have a neutral voice as it collects from sources that demonstrate an opinion.
Hallucinations – SGE may at times inaccurately recognize insights or give false facts.
Contradictions and duplication – The answer given by SGE may contradict the other organic results in search, or also show a result that is a duplicate of the organic results.
Misinterpretations – Information has been identified to be used in the snapshot, but AI misinterpreted the information thus changing the meaning of its answer.
Google reiterates that they are continuing to make improvements to fine-tune SGE as it develops, and many updates to the above issues have already been made.
Want to See It in Action? Sign Up for Early Access
While there is no released timeframe on when this new search experience is going to go live, you can use a personal Gmail account to sign up to get on the list to test out the Google Search Generative Experience when it becomes available.
But That's Not All – Welcome Perspectives & More System Updates
While the biggest news of the day was the new search experience, something that was also announced was a new search filter called perspectives:
As apps such as TikTok have gained popularity over the years, many searchers have turned to more "snackable" content to get answers to questions that only real-hand answers from real people can answer.
And as seen in the video above, links from Reddit and Quora, and YouTube Shorts are just some of the results you may see in the perspectives area of search.
Continued Emphasis on E-E-A-T
Experience, Expertise, Authority, and Trustworthiness are all important factors that Google accounts for when crafting search results.
And in their announcement of perspectives, Google also said that in the coming months, they will be rolling out an update to the Helpful Content system so that they can better understand content created from a "personal or expert point of view" and point users to some "hidden gem" information that may be harder to find on forums, lesser know blog sites, and alike.
Related News