Last Month, Google Concluded the Release of Three Big Updates
Over the past month, marketers and website owners alike were kept quite busy as they weathered multiple major algorithm updates from Google. Now that all the updates have finished rolling out, our team and various experts have started to see some significant changes in search engine results pages (SERPs).
What Updates Did Google Release?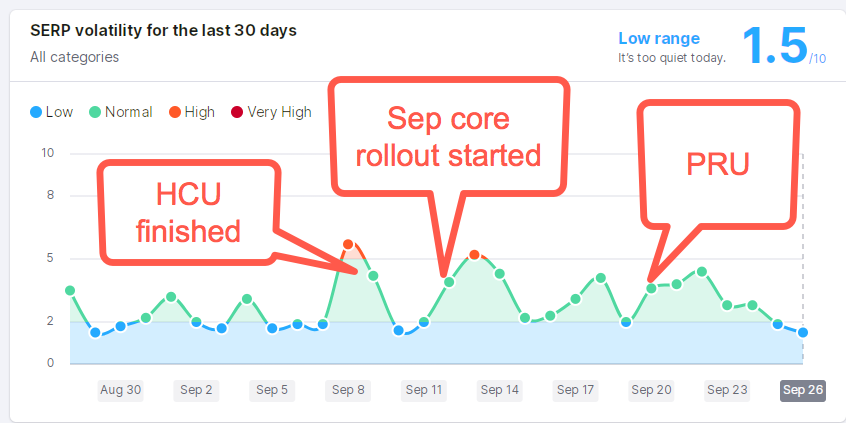 Source: Marie Haynes/Semrush
Helpful Content Update (Aug 25 – Sept 9)
As we previously mentioned in our last email, the HCU was expected to be a major update that ended up leaving little trace of impact. As some experts had suspected, the full result of this update would become more apparent in the core update. Others are still pessimistic that Google is living up to its word about favoring helpful content.
September 2022 Core Update (Sept 12 – 26)
Typically, Google releases around two broad core updates a year. And given we had one back in May, marketers hope this will be the last of 2022. However, unlike some core updates of the past, this update seemed to have more impactful changes. According to Lily Ray on Twitter, news and entertainment sites saw significant volatility, while government sites saw huge upticks in rankings, correcting the hit they experienced in May 2022.
September 2022 Product Reviews Update (Sept 20 – 26)
As the fifth Product Reviews Update (PRU) since April 2021, Google continues to showcase that they want to enhance search results' quality. However, this update was relatively short, as the rollout only lasted 6 days. Currently, some evidence from Glenn Gabe shows that websites that were negatively impacted during the July PRU are recovering.
Want to Know About Google Updates When They Happen?
Subscribe to our email newsletter to get articles such as this sent straight to your inbox.