Updated March 24, 2023
From measuring user engagement to understanding ways you can improve your page design, bounce rate can be a great metric to analyze and learn about how you can improve your site
If you're unfamiliar with bounce rate, and you're wondering what it is and why it's important, you've come to the right place.
Bounce Rate Defined
Bounce rate refers to when someone lands on a single page on your site and takes no other action – such as submitting a form, clicking an internal link, or anything else – and thus leaves the page and your site. From this lack of action, they are considered to have "bounced."
Unlike other digital marketing metrics we measure where we want high numbers for success, the lower your bounce rate, the better.
Where Can You Find Your Bounce Rate?
If you have Google Analytics on your website, you can find bounce rate as a column under Behavior in various areas of the interface. For example, here is the view when examining what channels are generating the most traffic:
If you are not seeing this column in your interface, you can click the Edit button above the date range and include it in a custom report.
Understanding the Difference Between Bounce Rate and Exit Rate
Before you run to your website's analytics to identify your bounce rate, it is important to fully understand the metrics you're looking at. Specifically, the difference between bounce rate and exit rate.
We just outlined the definition of bounce rate, but it can often be confused with exit rate. Exit rate is defined as the number of visitors who exit the website after landing on a page, which then gets compared to the total number of views that specific page has received.
In summary, the exit rate is calculated as a percentage of exits on a particular page whereas bounce rate only accounts for single-engagement sessions.
Why Does Bounce Rate Matter?
Bounce rate can matter when you are trying to get a better idea of how your customers interact with specific pieces of content on your site. It can help you understand what types of things you may need to perform to improve it, such as potentially moving a form up on a page, adding call-to-action graphics, or even adding more engaging copy.
Not only is it important from a conversion standpoint, but it also matters a great deal to Google. Bounce rate plays a role in Google's algorithmic process of how and where to rank specific pages on its search engine. If you want to rank higher, it helps to lower the bounce rate on your site.
But to some, it doesn't! Ahrefs did a good job at proving this in their bounce rate blog post that included this example: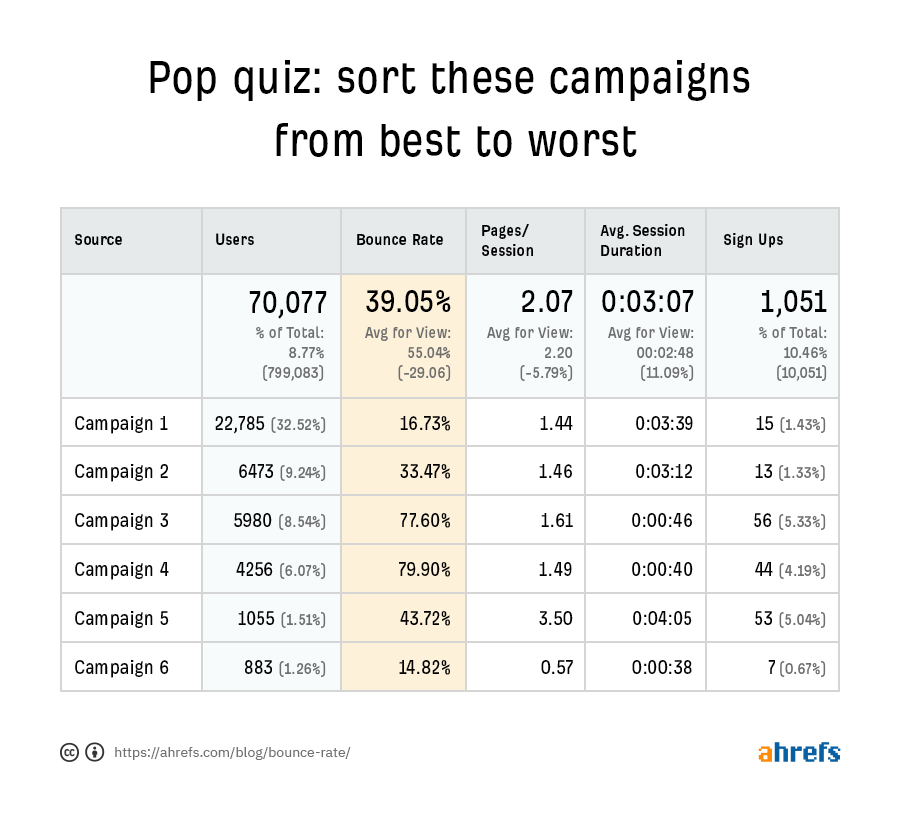 As you can see, while campaigns #1 and #6 have the best bounce rates, campaign #5 actually had the highest conversion rate at 5.02%.
Are High Bounce Rates Bad?
Not always. Sometimes, it can mean that your page's content answers a user's question quickly and no other action is necessary by them. However, this is of course not applicable to every business type or piece of page content.
Keep in mind that the average bounce rate depends a lot on the industry you're in and where your traffic specifically comes from. We would suggest performing some in-depth analysis on your industry standards before making any major changes to your site.
4 Things to Look At to Improve Bounce Rate
If you want to tackle improving bounce rate for specific pages on your site, ask yourself the following questions about four areas of your page:
Copy – Do you clearly state what your page will inform someone about? Does your content answer a question (if there is one)? Does it provide efficient information and link to any additional helpful content?
Design – Is your page structured in a way that is easy to read? Is it mobile-friendly? Is there a clear and easy way for the user to contact you or get more information?
Speed – Does your site load quickly? Are your images taking too long to display? Does you page layout continue to shift as it loads?
Distractions – Do you have pop-ups that can distract or turn off users? Are there many ads on the page taking up space? Do any videos or audio elements on the page auto-play?
By checking key pages for these issues, you'll be better positioned to lower your bounce rate, keeping users on your site so they can convert.
Additional Tips for Improving Your Site's Bounce Rate
We've just outlined a few of the basic strategies you can implement right away that will have a beneficial effect on your site's bounce rate. However, there are some additional things to investigate, including:
Looking at Traffic Sources
It is very common that specific sources of traffic can be a leading factor of a high bounce rate. Depending on the platform you use to track site analytics, you may have the ability to see a breakdown of the bounce rate by source. These sources will include direct, organic, paid, social, referral, and more (social media traffic is known to have a notoriously high bounce rate).
For example, once you do a source analysis and see that the bounce rate is higher for, say, organic traffic, you can take a deeper look at that URL and implement some of the strategies discussed above. You'll also want to make sure that visitors are not being directed to a 404 page.
Adding Internal Links
Not only are internal links a great strategy for overall search engine optimization, but they can actually help with bounce rate. If you're unfamiliar, internal linking is the practice of linking important pages on a site to other internal pages on the same domain.
This can decrease your bounce rate, as those internal links will send visitors to other pages on your site, leading to a natural increase in pageviews. The second a visitor clicks to another page on your site, they are no longer classified as a bounce.
Tip: Make sure that internal links are naturally placed within the content. Having an overload of internal links will not automatically lower your bounce rate.
Provide Links to Related Posts
As you'll notice below, we provided links to similar articles and posts that are educational and will intrigue a visitor based on their specific search. By providing the visitor with options for where to go next, this becomes a great strategy for keeping visitors from bouncing away from your site.
You're the expert on the searched topic, so you want to show your readers that by providing them with related posts.
Check Out More Blog Posts Like This