The 5 Key Factors Google Uses for SERPs
As you invest in SEO services, or decide to tackle search engine optimization on your own, it is good to understand that there is a method to Google's madness. The search engine has some set factors that contribute to what websites they show for specific queries, which can impact your ranking.
Google currently only states a few aspects they analyze when a search is conducted, so, in no order, let's take a look at some of the things that can contribute to your rank:
1. Meaning of Search
One thing that we can count on being a factor in where you rank is search relevance. This is because we know Google bases its results off what it thinks the user is searching for, meaning the platform considers search intent. In late October of 2019, Google's BERT update was a huge shift in helping the platform to understand search intent.
For instance, if you search for "red shoes," you are given a mix of results, including images, Google Shopping listings of products, suggested searches, and even a knowledge panel for the famous film from 1948 and links to watch it:
What you should take from this is that you may never be able to rank for some of the terms that apply to your business, due to the broadness of certain terms and Google's algorithm working hard to understand the intent of the users' searches. And that's ok, because there are plenty of terms that you can have great success with.
2. Content Relevance
Along with meaning of search, your content will need to be deemed relevant in the eyes of Google for whatever the searcher's query is.
Questions to ask yourself:
Does my page have content relevant to what people are searching for?
Am I incorporating important keywords into my content in headers and body copy?
Is it quality content? Does it break Google's quality guidelines?

Things such as auto-generated content, cloaking, hiding text or links, link schemes, and sneaky redirects all are rule-breaking tactics
3. Web Page Usability
With Google's systems as advanced as they are, they have the ability to assess whether a page is easy to use or not, and the platform promotes pages they deem more user-friendly than others. This includes a variety of factors often debated in the SEO community, including:
Mobile-Friendliness
2018 saw the announcement that Google would begin prioritizing mobile-first indexing when it came to new websites being indexed for search results. Then, a year later in 2019, the platform completely moved to mobile-first indexing for all websites.
So if you do not have a website that is mobile-friendly, meaning it adapts to various screen sizes, you will be outranked by websites that do.
Page Speed
In July 2018, Google had seemed to indicate site speed was an important factor for not only desktop, but mobile as well. Many SEOs had assumed for years that site speed impacts rankings, but recently Google admitted it is only a tiny variable in determining rank.
However, it should not be completely overlooked. From photos to media embeds to CSS to other codes on your website, there are various things your server needs to load when a request is sent by a user trying to reach your site. The slower your page loads, the less likely you are going to be able to convert customers.
Cross-Browser Testing
If you have never had exposure to web development, you may not know that your website can appear and function differently across various browsers. From Apple's own Safari to the antique Internet Explorer, making sure your website is compatible across all browsers is important not only to Google but for users as well, since you can't predict what platform they may be coming from.
4. Content Quality
On top of following Google's quality rules mentioned earlier, to help users be matched with reliable sources for their query, in 2018 Google announced that something digital marketers need to keep in mind for website content is E.A.T. – expertise, authority, and trustworthiness.
Here are some things to consider when examining E.A.T.:
As redundant as it sounds, writing content on subjects you are well-versed in helps build expert-level knowledge for your name and brand. It also helps you keep your content relevant to your products or services.
However, you need to ask yourself, are you the most prominent source to answer the user's question, or is there a better source that addresses it?
One way to build trust and authority in Google's eyes is if your page has links from other prominent sources, which is a good hint that quality link building can help support your rank.
5. User Settings
Something that people often forget about is that aspects such as your search history and location are huge factors in what results you will see when you do a search. Personalized search is the reason that you may not truly know where you rank in search engines.
Google gives a few examples. If you search for "football" in, say, Philadelphia verses in London, you are going to get very different results. Also, if you recently searched for something like "Cleveland vs. Golden State 2016" the next time you search "Cleveland" your results may include more pages associated with the Cleveland Cavaliers instead of pages related to the city itself, all based on your prior search.
Rumored Ranking Factors
There are also other debated "ranking factors" that have been tossed around in the SEO community for years. And while some of these elements may not directly impact your ranking, they are still hailed as good website design, development, and optimization practices:
Structure
What good is a renovated house if the foundation is unstable? Aspects like how your navigation is arranged, how often you are updating your sitemap, the strength of your metadata, the presence of schema, and other technical factors all work together to help your website be more solid.
The bones of your website need to be the foundation of how you conduct search engine optimization as you supplement your work with content and other strategies.
Recently, John Mueller also spoke on how having a "flat site structure" can impact the rankings of your most important pages. You can read more on the subject at Search Engine Journal.
HTTPS Security
While it has been debated if having an SSL certificate (which shows on your website as HTTPS instead of HTTP) impacts your rankings, John Mueller, who works for Google and is a known authority figure in the SEO world, once said that it does not impact if a website will be indexed, but it is a "light-weight" ranking factor.
However, even if it is just a smaller weighted item, you should note that unsecure sites show users a warning in Chrome, which could turn away potential customers.
Domain Insights
The thought of domain age being a factor in Google's ranking has been a conversation that has been going on for years. And while some believe it is not considered a reliable factor, it is hard to ignore the numbers, as Ahrefs shows: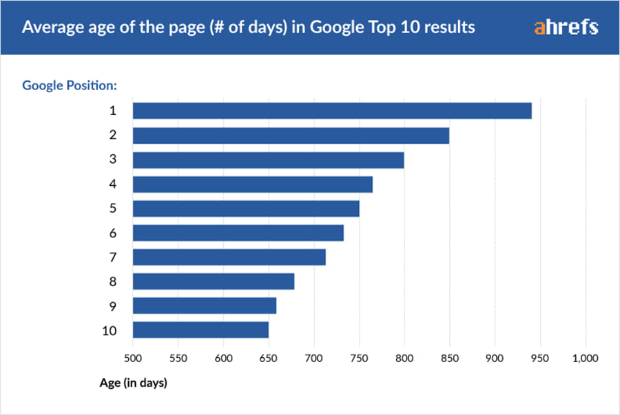 Social and Brand Signals
According to a study done by Search Engine Journal, they stated that Google has in fact confirmed that website links which have been shared on social sites such as Facebook and Twitter are used as a ranking signal.
And while a signal shouldn't be seen as a direct impact on rankings, it should be no surprise that websites that rank high have a hefty number of social signals across the internet.
Optimization
It's not called search engine optimization for nothing! How is Google supposed to know it should rank your website for specific terms or searches if you do not properly enhance your website's content to show for it?
There are a few things you should keep in mind when optimizing your content or expanding your website, such as:
Word count
Keywords
Inside links
Headers
Images
Outside links
Related Articles on SEO and Rank Factors
Get to understand search engine optimization better through some of its tried and true practices that can help take your digital marketing to the next level: